Fully airconditioned with heating and cooling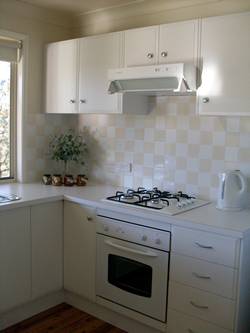 Kitchen - "A cook's delight"
Ready for any delicious meal. Choose to bring your own or enjoy our generous breakfast and dinner hampers.
Bedroom - "Delightful comfort! "
Two bedrooms with queen-size beds. All your comforts are provided for, for all seasons. There is a large bathroom, with separate toilet for your convenience.
Verandah - "Fire up the barbie "
Enjoy a beautiful local prime rib on your spacious verandah.
"Braised lamb shank speciality"
Enjoy a delicious 1, 2 or 3-course dinner and/or a scrumptious, generous local breakfast hamper and cooked meal options. All delivered to your cottage.
Please see the rates and packages.
"Relax and enjoy the country ambience "
Soak in the beautiful scenery, enjoy the wonderful serenity, all while you relax with a local wine and your complimentary nibbles!